Loren "Ren" Rawson  Phillips was born on October 27, 1867, in Hoosick Falls, New York to Lorenzo Simon Phillips and Olive Adelia Snyder Phillips.  In 1887, Phillips opened a photography studio in Saguache, a town of about 600 residents in the San Luis Valley of Colorado.  He charged $3.00 for a dozen cabinet cards, like the dapper portrait of George Norris with his bicycle.  Note that the brick wall behind the bicyclist is actually a beautifully crafted painted backdrop.  
Phillips photographed everything from babies to mining interests.  He also made stereoviews and specialized in copying  and enlarging photographs.
He exhibited his work at the Second Annual Fair of the Southwestern Colorado Industrial Association.  In 1890, Phillips photographed a city street in Saguache showing the office of the new Saguache Crescent newspaper, retouching his negative to add the sign for the paper.  At times, Phillips taught school in addition to his photographic work.  Phillips closed his Saguache photo studio on October 31, 1890, and moved to Aspen to assist in his brother's hardware business.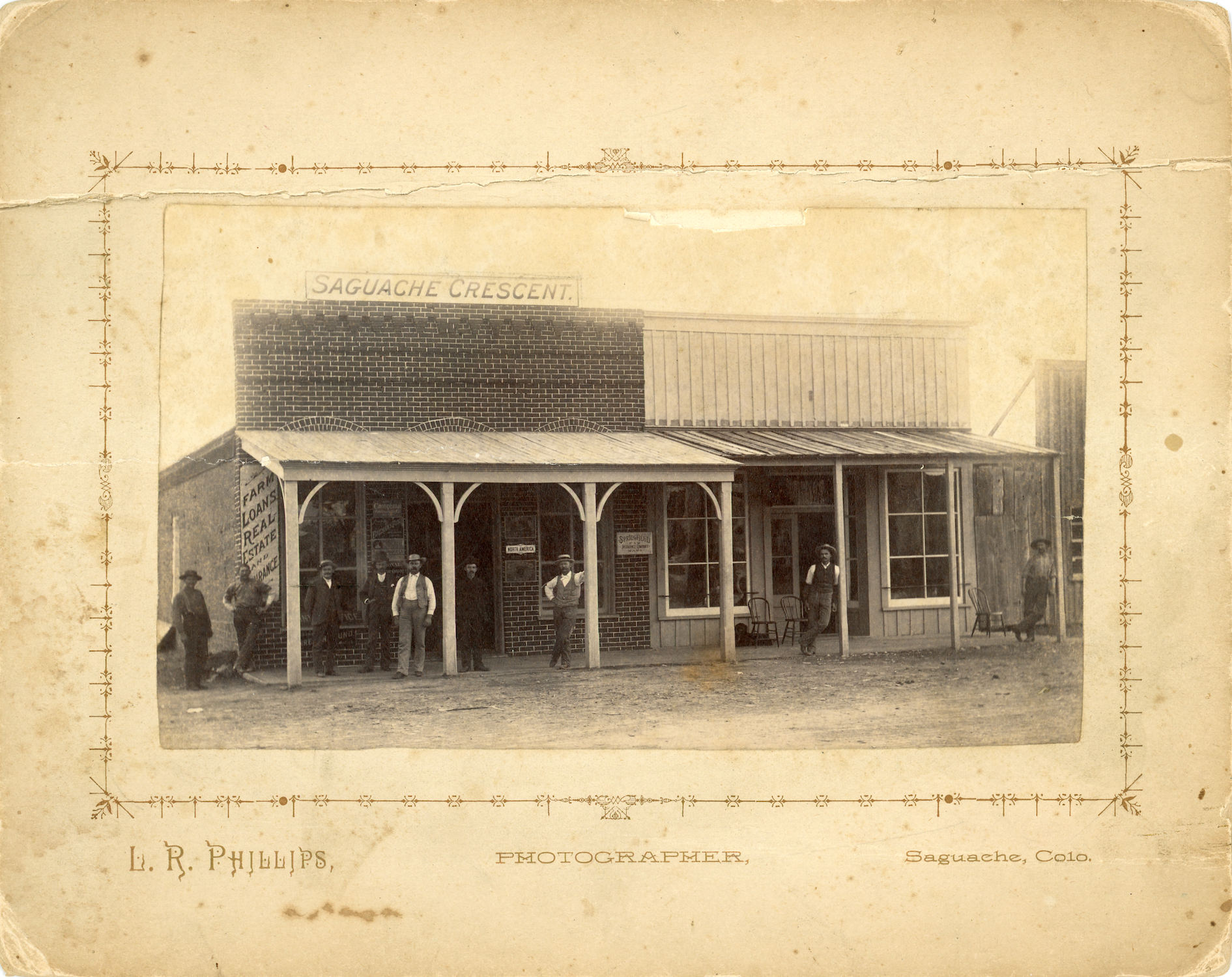 By 1892, Phillips lived in Roswell, New Mexico where he operated a photography studio, Phillips & Sheek.  Sheek's first name is unknown, but the team made photographs that were displayed at the 1893 World's Columbian  Exposition in Chicago.  Their photographs focused on the Alfalfa Palace, constructed from 2,500 bales of alfalfa and built for the Southeastern New Mexico and Pecos Valley Fair held in October 1892.  He married Ola Lee Fountain in Chaves, New Mexico on August 12, 1894.
Phillips returned to Colorado in the late 1890s, settling in Grand Junction where he continued to make studio portraits until 1899 when he sold his studio.  Phillips remained in Colorado for the next fifteen years working as a school principal and serving as town treasurer of Fruita.  He patented a globe for teaching geography, a fire kindler, and an oscillating water motor.
By 1930, Phillips lived in Los Angeles and was employed in the insurance industry.  He died on December 3, 1944, leaving a wife and five children.
Thanks to Beverly Brannan, recently retired Curator of Photography, Library of Congress for editing assistance and Karen Hendrix for pointing out the painted backdrop.