David Lamon was born in April 1864 to Robert Lamon and Anna Early Lamon, the oldest of three children.  The Lamon's lived in Hebron, New York a farming community near the Vermont border, about 60 miles northeast of Albany.  In the mid 1880s, David left home to seek his fortune in the West.  Along the way, he learned photography.
Lamon likely opened his Denver  studio at 1740 Larimer Street in the spring or summer of 1886, just after the publication of the annual city directory, as he is not listed in that directory.
His photograph of S. A. Doll's Market at 587 Champa Street provides a good example in dating photographs.  Doll's Market first appears in the Denver City Directory in 1886. The street number, 587, can be seen painted on the window below the valance.  With the tree fully leafed out, we can narrow the date to late spring through early fall.
Doll formed a partnership with W. G. Smith in 1887, changing the firm's name to Doll & Smith.  In addition, in 1887 Denver's streets were renumbered.  587 Champa became 2205 Champa.  The men standing in front of the store may be Sigismunda A. Doll and his clerk, Theodore H. Kuhlenbeck.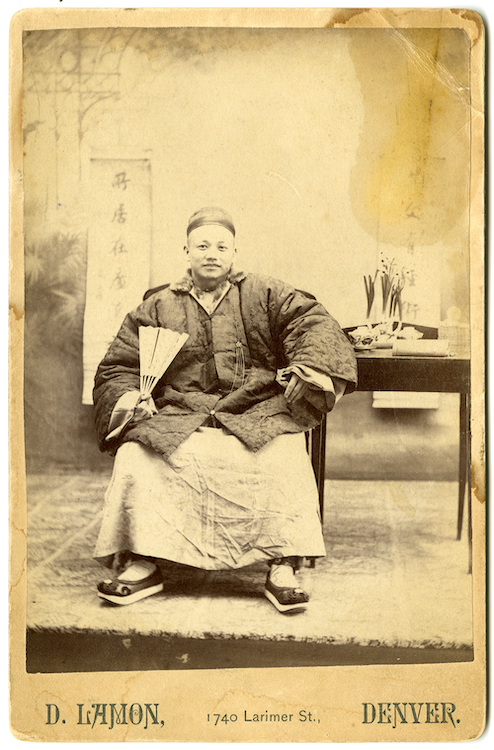 In the 19th century, Denver's religious institutions organized Bible studies, English classes and social events for Chinese immigrants.  In  1887, Lamon photographed Charlie Hong, interpreter for the Chinese Sunday School run by Denver's Trinity Methodist Church.  Trinity Methodist's 1899 Christmas program drew 500 attendees.  The Rocky Mountain News wrote: "Charlie Hong added laurels to his wreath of popularity, too, by the masterly manner in which he related a history of the school."  A few years later, Hong was replaced as interpreter by Y. T. Fong.  In January 1894, in a jealous rage over losing his position, Hong assaulted Fong in the church.
In March 1887, Lamon took over J. W. Walker's Golden studio for 30 days, turning out portraits like the one on the right of  three young men with attitude.  In 1888, Lamon returned to New York state, setting up shop at 67 South Pearl Street in Albany.  He returned to Colorado in 1891.  He accepted a position with Payne & Stockdorf in Leadville, but may have bypassed that opportunity to immediately open a studio in Denver, which he would oversee for the next two years.
In 1894, he opened a jewelry business in Denver, which he would oversee for several years.  But he pursued many other projects that brought him attention.  In 1895, he made national news when he discovered a rich vein of gold near Cripple Creek.  In 1904, Lamon was said to have discovered the lost art of tempering copper to the hardness of steel.  In 1926, Lamon planned to construct an iron and steel plant to produce "Lamon-ite," a new process of manufacturing iron and steel with a tensile strength of from 25 to 75 per cent greater than steels now in  use.
Lamon died on February 27, 1943 in Denver and is buried at Fairmount Cemetery.
Thank you to Beverly Brannan, former Curator of Photography, Library of Congress, for proof-reading this post.